Culture
There is a great cultural diversity in Colombia thanks to the geographic variety. For example, the musical expressions mix European rhythms and local instruments with unique historical traditions that originated vallenato, cumbia and currulao when they got in contact with African culture, and in the Andes there is a different musical culture that is performed more with cord instruments than African percussion.

The millennial pre-Colombian art is particularly rich. The Spanish colonizers coveted figures made in gold and jewelery that lead to real massacres to own them (more for the precious materials used than for their artistic value). They brought to Spain many of those objects where they were destroyed to use the gold and other precious stones in other objects. There have been found many of those objects in archaeological excavations that is a small window to the artistic richness of those peoples.

Handicrafts produced by ethnic groups are also rich and likely appreciated by the locals and by tourists. The Guajiro people produce bags, belts and hand-woven nets. On the other hand, the Paeces people are known by their typical woolen shawls.

In literature Colombia has great author with world fame Gabriel Garcia Marquez, awarded the Nobel Prize in Literature. He is most important representative of magic realism in Latin American literature. His masterpiece is One Hundred Years of Solitude that has been translated to many languages of the World.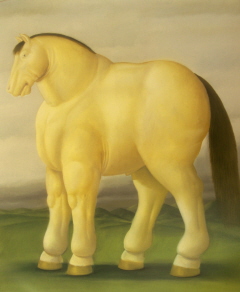 Fernando Botero is a Colombian painter and sculptor whose works have been awarded by many prizes when exhibiting in Paris, in New York and other. His works are exhibited in most important modern art museums of the World's principal capitals.
Colombian musicians like
Shakira
,
Carlos Vives
,
Juanes
and Aterciopelados have been awarded with different Grammy music awards.
Formula F1 ex-pilot Juan Pablo Montoya was born in Bogota and is also Colombian.

The most popular sport in Colombia is football that is national sport like in most Latin American countries. Watching football matches in the television is very popular hobby for many Colombians, especially amongst men. Victories of the national team is very important event.

Despite different protests bullfight is still popular in Colombia. It was brought to America by Spanish colonizets.